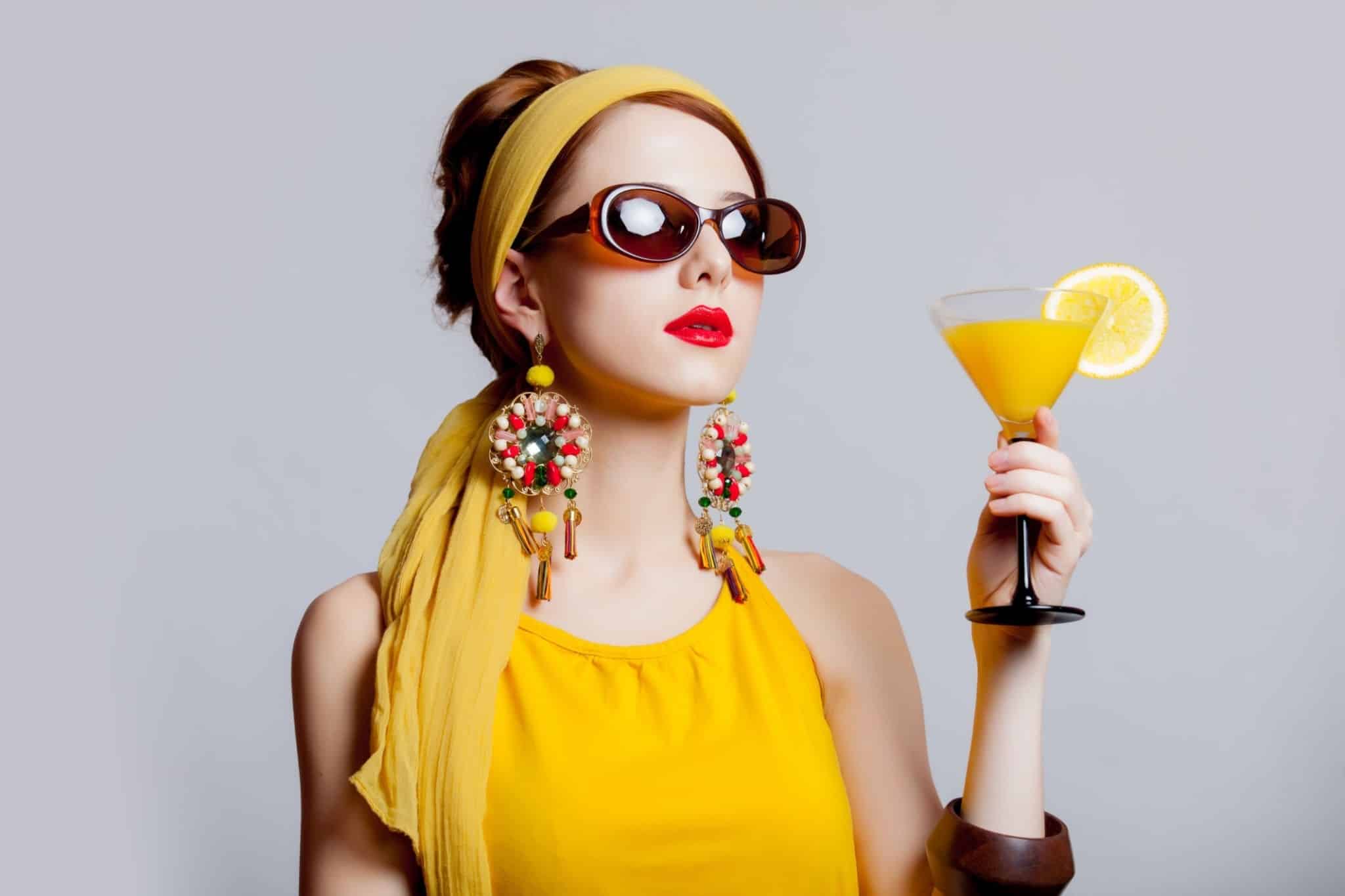 Each period will have its fashion trends. A style that can culminate then becomes less popular. Or it can be changed, improved to become more beautiful, more refined. You should know that a style can transform and come back again. Vintage styles come back and many people love them. How about trying vintage hairstyles for medium hair to get a new look?
These days, the old hairstyles are changed with mild modern updates to be used in the events. Vintage hairstyles are combined with the most stunning evening gowns and expressive makeup to enhance a feminine and classy look. Because fashion is cyclical, everything revolves around it. How about getting inspiration from the past? Maybe the best things were invented long ago. We only use them again. Fashion in the past can always give us some awesome concepts to develop.
Here are the stunning vintage hairstyles! Pick one style to renew your appearance.
Vintage Hairstyles For Medium Hair
1. Vintage Hairstyles with Hairpiece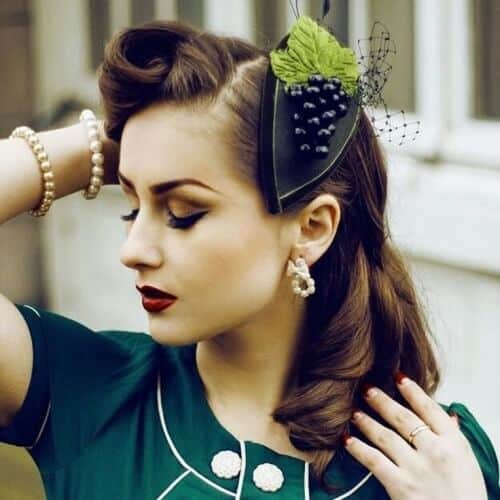 In classical times, hair accessories were like jewelry for women. If you have a curly or wavy hairstyle, you can give it a vintage vibe just by using a fancy hairpin or hairpiece.
2. Vintage Hairstyles with Ponytails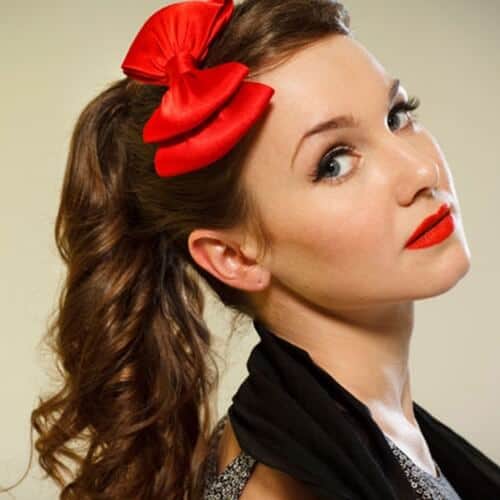 Ponytails have been invented a long time ago. They will most likely remain popular for the next years. They're a beautiful and practical choice for comfortable hairstyles.  Ponytails are suitable for several occasions. To make a vintage-looking ponytail, you need to create a side part and then put the ponytail in place.
3. Vintage Hairstyles with Bows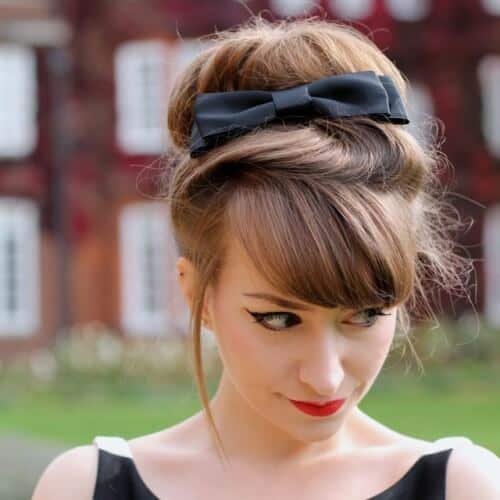 Bows are always beautiful vintage hair accessories. Both updos and halves style can use bows. They will add a feminine feeling to your vintage look. Don't hesitate to try bowls of different sizes.
4. Side Bun Vintage Hairstyles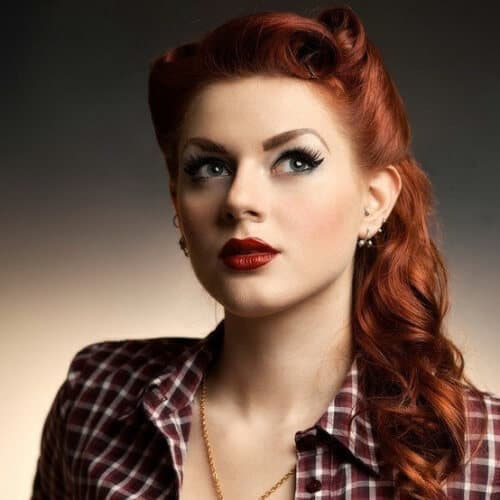 Combine a half-up hairstyle with a side-swept hairstyle to create an impression for your appearance. The half-up hairstyles are perfect for recreating a pin-up look while side-swept hairstyles are as iconic for the style.
5. 50s Hairstyles for Medium Length Hair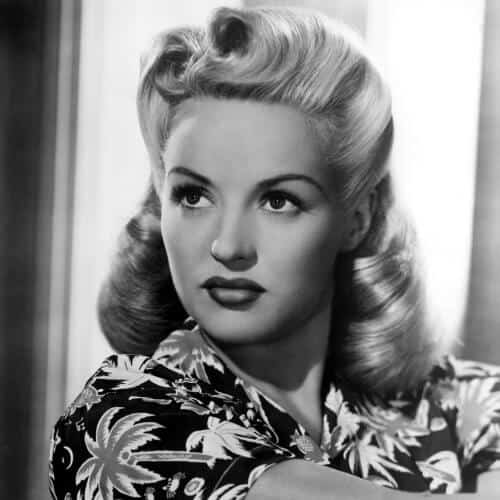 Medium long hair is ideal for many classic hairstyles. You can curl your hair just like the hairstyles of the '50s. Just need pins, hairspray, and curls to style your own hair. Even if you don't have medium hair you can always opt for a medium-length wig.
6. Classic Hippie Hairstyle with Braid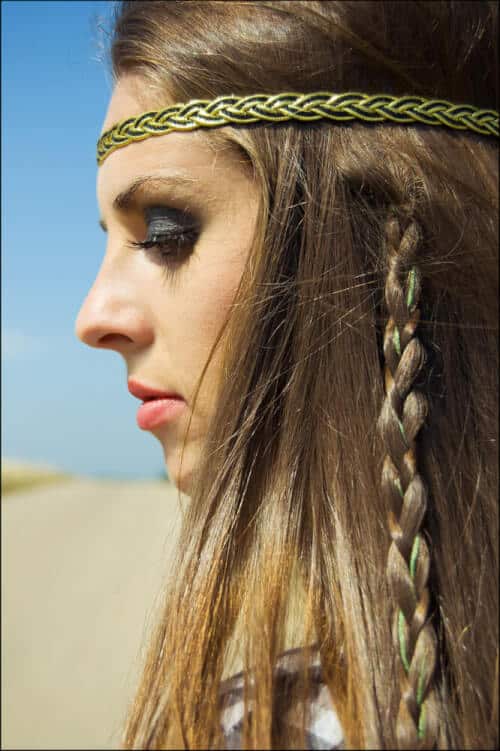 This hairstyle is suitable for any face shape. You can make a small basic three-strand braid on a side of your hair. The hippie vibe is just enhanced with this headband and of course the braids.
Read more: 13 Short Wedding Hairstyles For Black Brides – How To Look Gorgeous
7. Old Hollywood Glam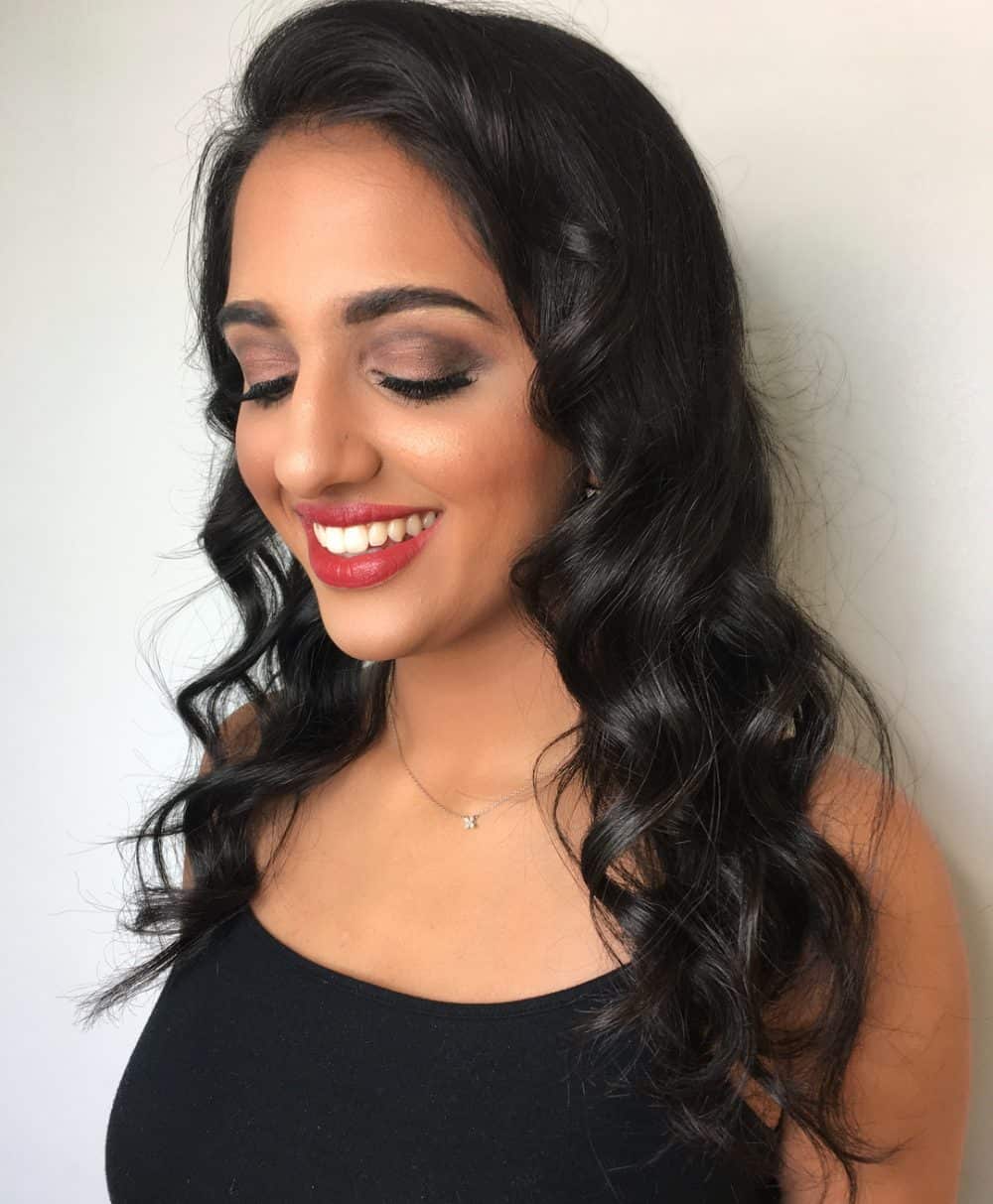 This hairstyle fits any face shape and hair texture. You need a hot roller to create waves. If you have dry hair, you will need more texturizing spray, hairspray, teasing comb, and bristle paddle brush.
8. Victory Roll Hairstyle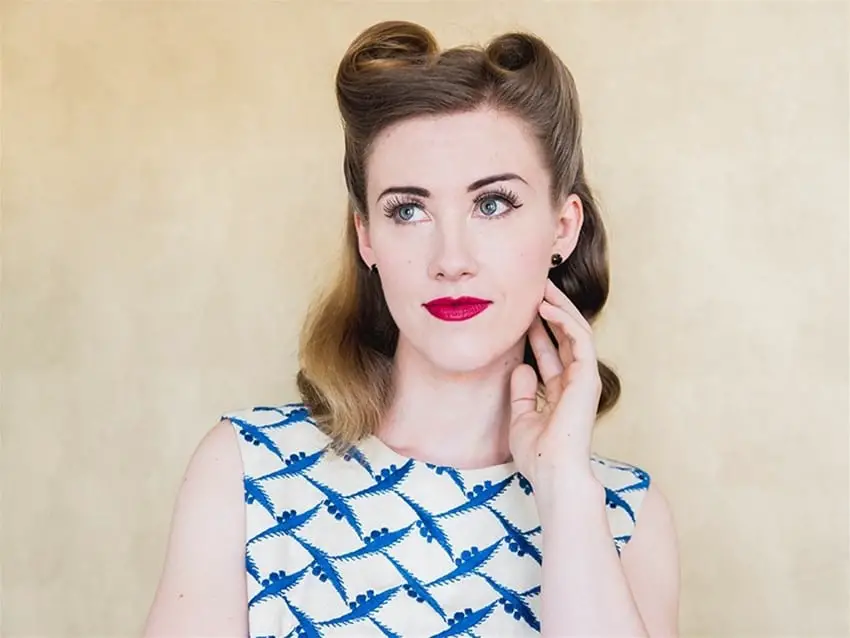 Nowadays, many girls recreate the victory rolls from the basis for a classic pinup hairdo. A fluffy bang to the front is the highlight. Hair is center balanced. Create one hair roll on each side of the head, which hints at an overall v shape.
9. Vintage Pinup Hairstyle with Bandana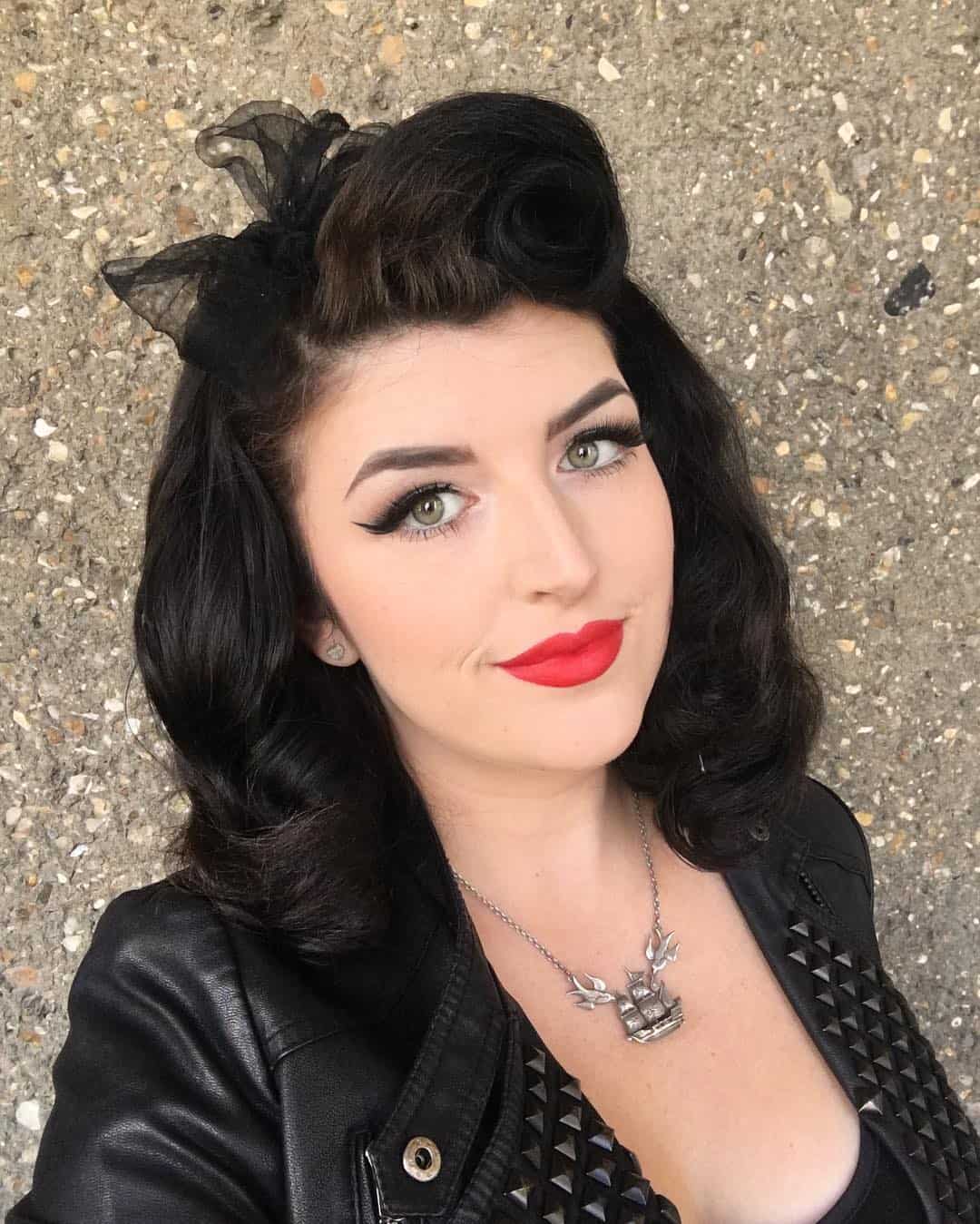 Styled bangs can make you look different. If in doubt you can style the Victoria Roll to see the change. If you want a vintage style then this is a wise choice. Create loose curls at the ends and tie a black bow to give you a new look.
10. Victory Roll Updo with Jeweled Clip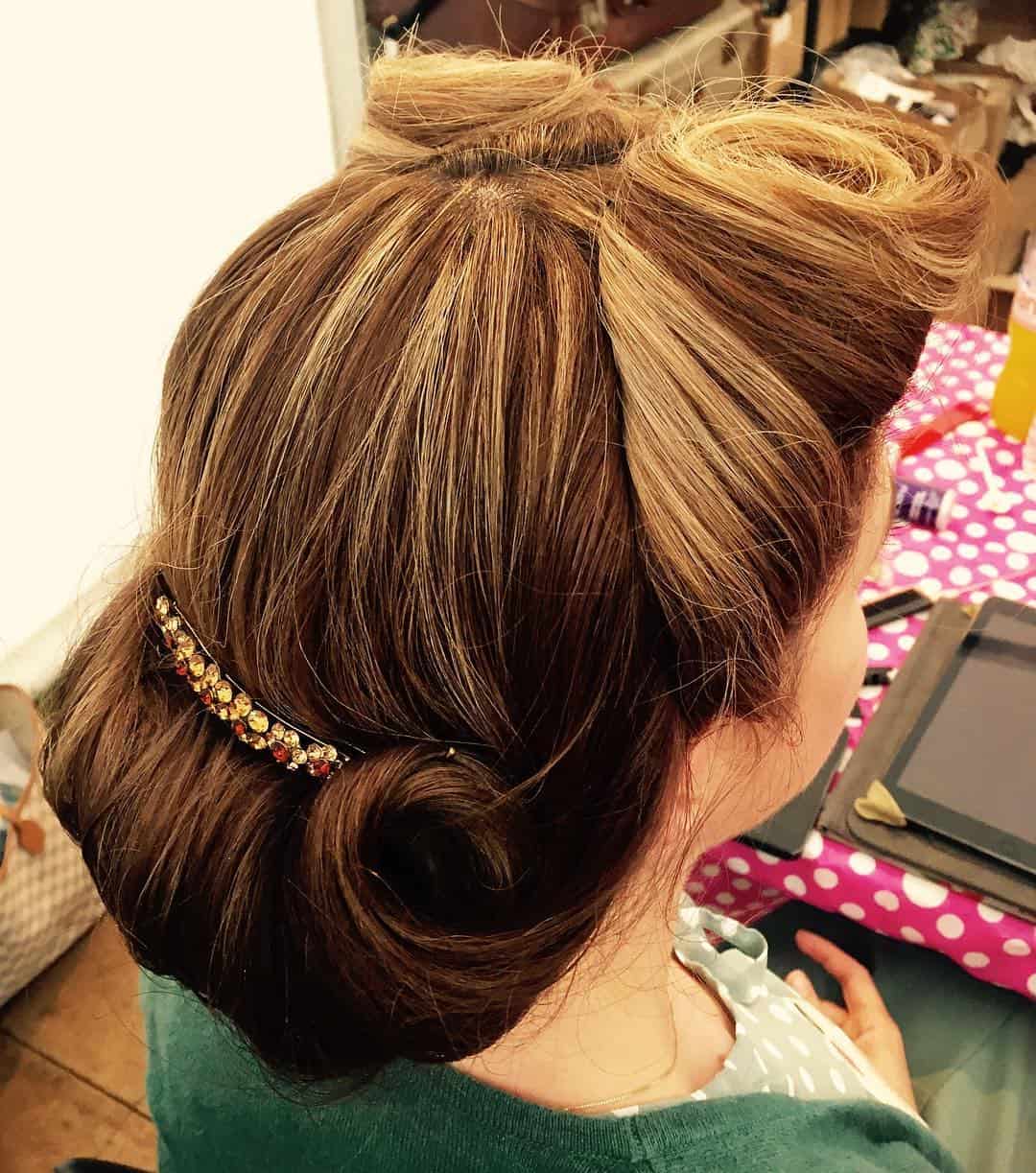 No matter what style you have, long or layered bangs, take large sections from the front of your head and twist them into symmetrical rolls. Balance back by holding your hair up into a horizontal bun. A sparkling clip will create an eye-catching highlight.
11. Bright Red Curls and Floral Clip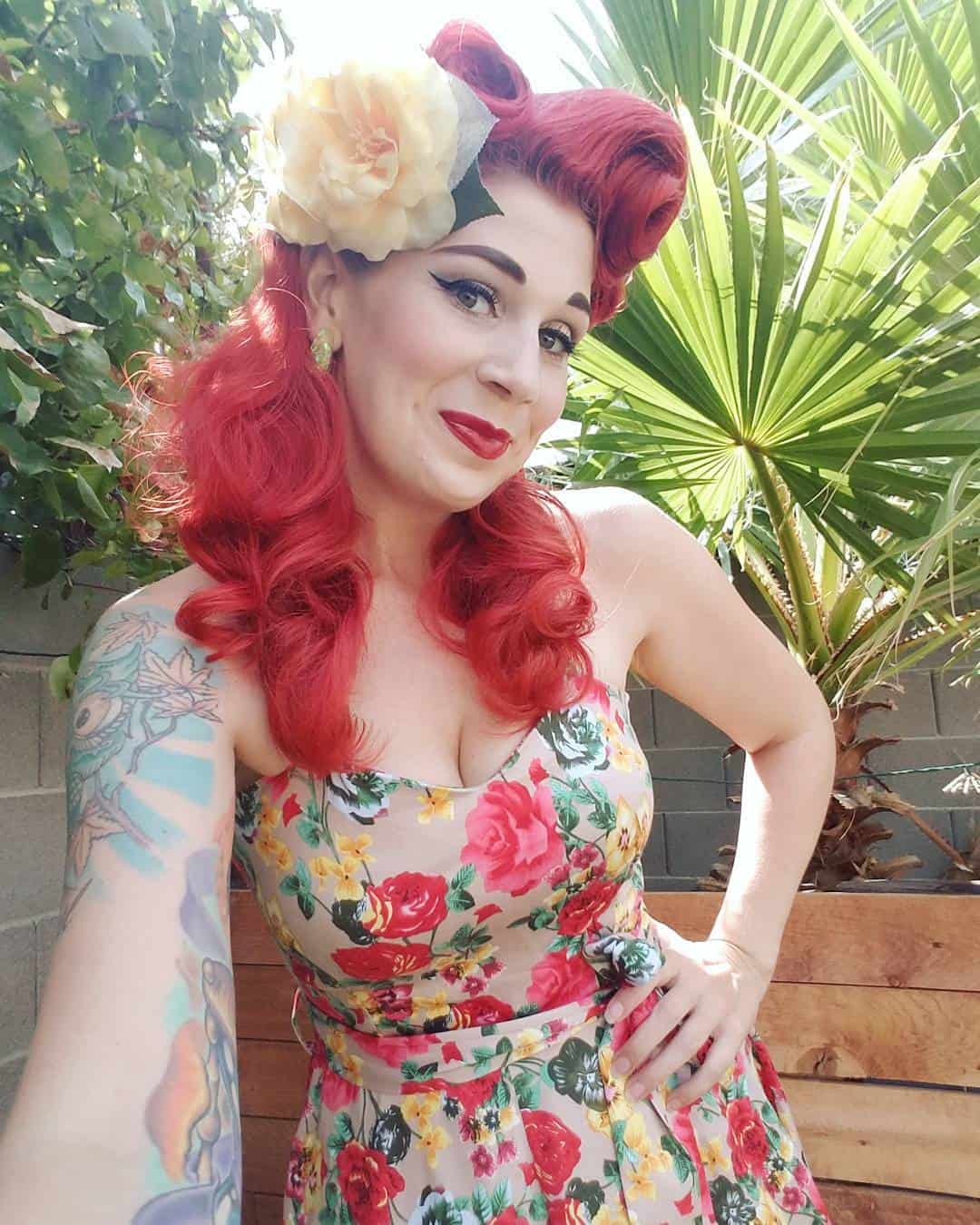 This hairstyle is both vintage and fancy. It's hard to choose which point stands out more. Pink hair or flower in her hair? The hairstyle has curled bangs and bouncing curls. It's so eye-catching.
12. Feathered and Fabulous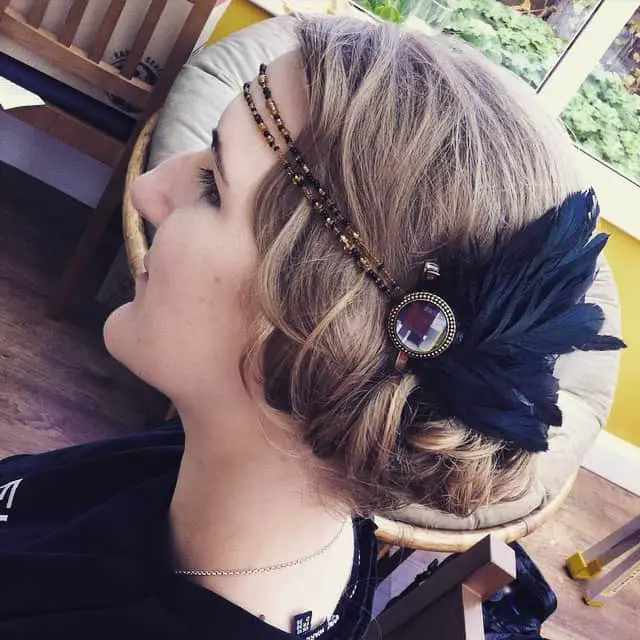 Pin your bottom hair into a fake bob then wear a classic feather headband. The feather headband brings a classic vibe. It's possible a get a hand-made headband. You also can buy it in thrift stores or costume shops. It's not hard to find out and purchase it.
13. Formal Vintage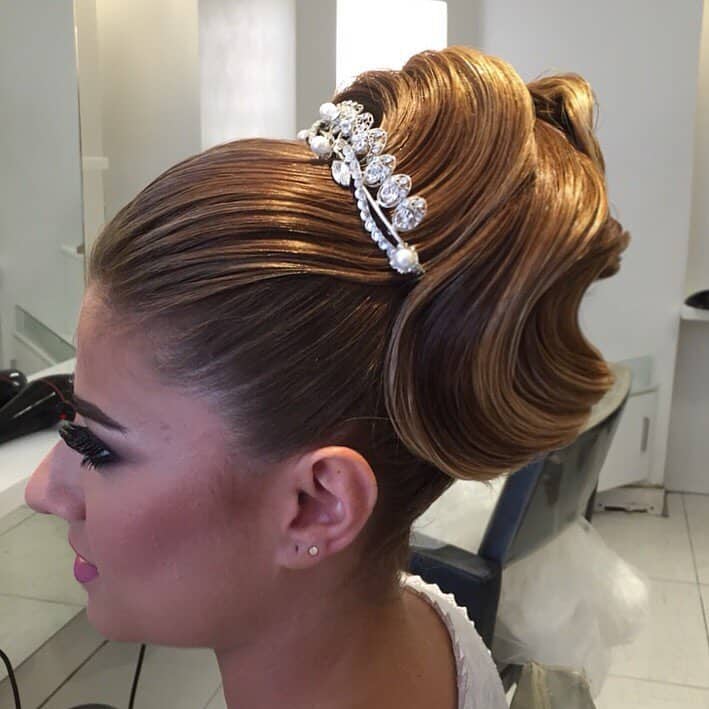 It's great if the brides have a classic hairstyle at the wedding ceremony. They will have diamond-studded hairpins and curls pulled back. The curve of the curl, intricate twists, polished finishes, and soft fluent lines will tell you that it is a vintage style. 
Conclusion
Today's fashion is actively making use of the trends of previous decades, so the classic element often appears on the runways of fashion shows in Paris, London, New York, and Milan. And the most interesting thing is that factors borrowed from the past are going through their triumphal moment once again becoming the hot trend of today. Vintage hairstyles for medium hair have a comeback and help women look gorgeous.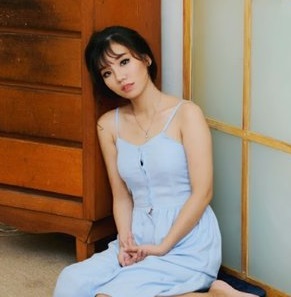 Hi Everyone, BeYoungAholic's aim is to help women who have lost their self-confidence because of the way they look. We will provide you tips and bits of advice on how to take care of yourself and maintain your youthful look. So, Enjoy the blog!