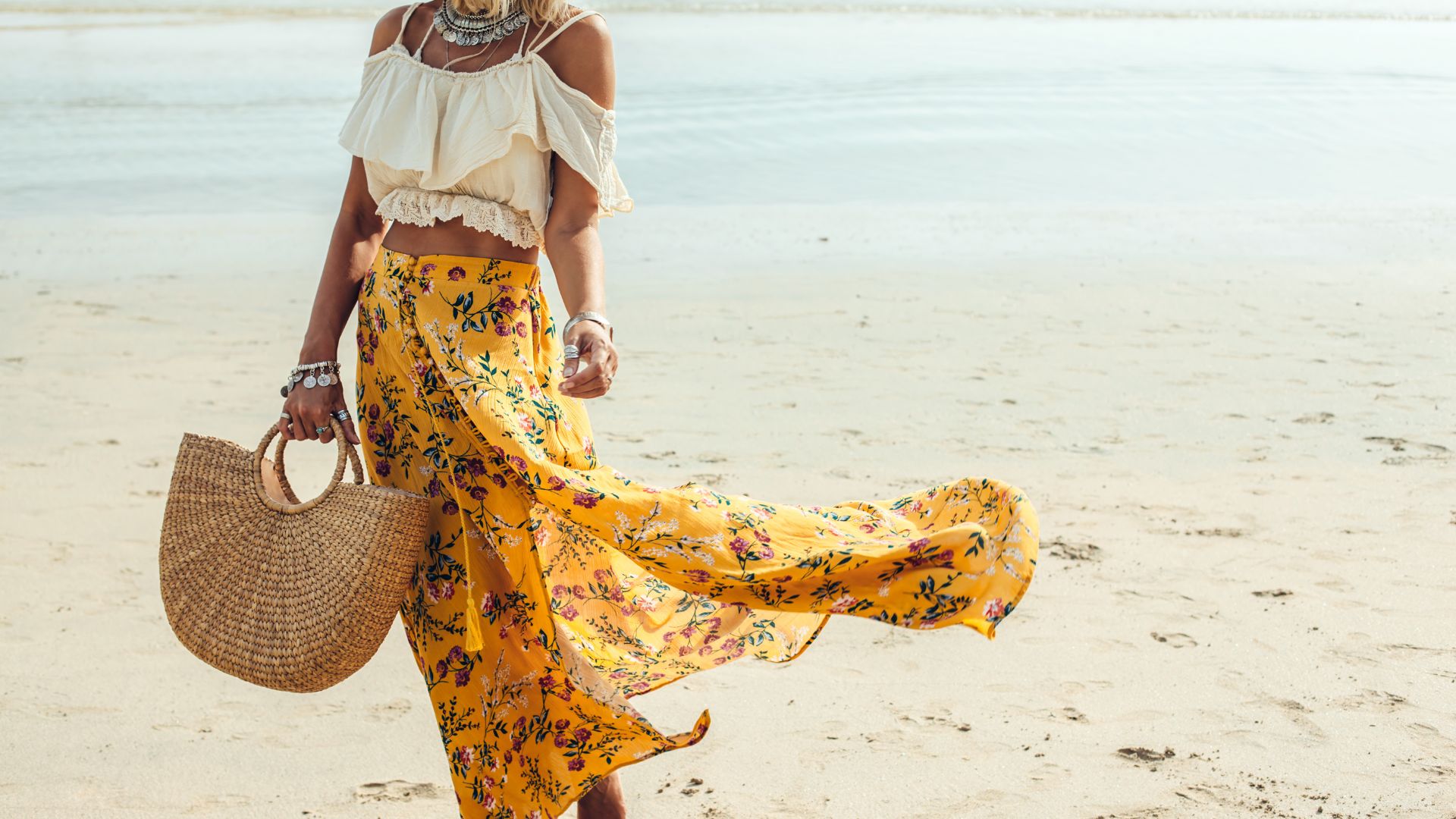 Do you prefer to dress like a hippie? Although the hippie movement dates back to the mid-sixties, its members' fashion and lifestyle practices are still popular today. The hippies were against traditional lifestyles and popularized clothing styles like embroideries, flared silhouettes, ethnic designs, and prints. To start such a wardrobe, you need the essential tops, bottoms, accessories, and footwear.
Numerous online shops, such as Aura the label, sell Boho clothing pieces for women. Follow the guide below to get introduced to hippie-style clothing.
Tops
Hippie-style clothing involves wearing comfortable, natural, and loose tops. You should wear faded and used T-shirts, as well as retro tees. There are plenty of options for you to experiment with, such as tie-dyed tops, dashikis, and long-sleeved peasant blouses. Dashikis come in lovely colors and tribal patterns, which bring vigor to outfits.
If looking for a source of hippie-style clothing inspiration, India is a country that provides such inspiration. You can choose from various vests, including long, short, loose, tight, monochrome, colorful, beaded, floral, etc. When it comes to long-sleeved peasant blouses, these are popular among hippies due to their stylish appearance. If interested in accessorizing, you can always try out a vest in combination with other tops. In the sixties, suede vests were a classic option for men and women.
As far as jackets are concerned, vintage denim jackets are considered the classic choice. Besides this option, there are plenty of other alternatives to consider. In terms of materials, suede, leather, and sheepskin are some of the material choices in mind. Also, jackets with beads, patterns, and embroidery all have elements of hippie clothing style.
In terms of hoodies, these aren't considered hippie material, which is why you shouldn't rely on them too much. The rule is to stick to old-style jackets, as newer jackets cannot easily fit into such a wardrobe. Check out some exciting hippie outfit ideas for women.
Bottoms
Regarding bottoms, denim bell bottoms are the most classic choice. These are the core of the hippie culture, as both men and women wore them during the hippie era. Flared jeans look chic with a peasant top or a tunic. Also, they are excellent for providing balance to wider hips.
Trends come and go, and the bell bottoms, which were a staple in the past, are making a resurgence just like straight-leg jeans and wide-leg pants. Bell-bottoms or flared jeans, which fit from hips to thighs and flare out from knee to ankles, are very much associated with the hippy culture of the 60s and 70s. The downside to bell-bottoms is that they make your legs look shorter because of the wide leg opening. The key to looking good in this kind of jeans is to pair them with wedge heels or platform sandals.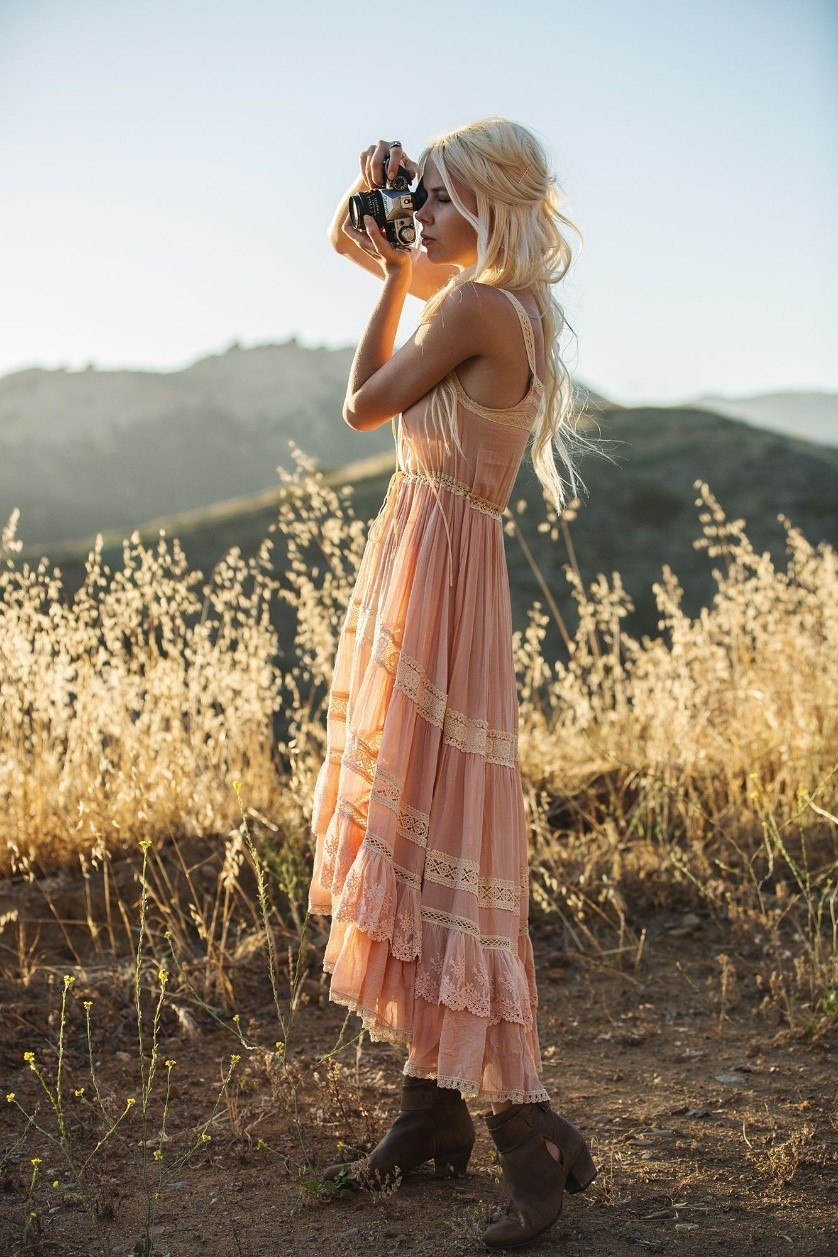 Patterned and corduroy pants can also be worn, given they have the characteristic hippie flair. Denim shorts are another piece of clothing that you should have in your hippie wardrobe, particularly if they are torn or ripped. Apart from purchasing ripped shorts, you can turn some of your old jeans into shorts by ripping or fraying them.
Females are provided with plenty of more options when choosing bottoms. They can consider loose and flowy skirts, sundresses, tunics, maxi skirts, etc. For instance, maxi dresses with prints and patterns and lace details would look great with wedge sandals or a denim vest for a more casual look.
Read more: 13 Vintage Hairstyles For Medium Hair – Back In Time
Footwear
The synonym of the hippie clothing style regarding footwear is sandals. Leather sandals are the perfect solution for warm weather, as they are light but fashionable. Make sure you look for sandals that are easy to slip on and slip off. Such sandals look great with denim shorts and flowy tops in summer.
When the weather is colder, you can opt for ankle boots in various styles. The material usually used for making these boots include leather and suede. Ankle boots look stylish with flared jeans, a loose sweater, and a hippie headpiece if planning a casual look. Additionally, they look fashionable with skirts and dresses.
Accessories
When it comes to accessories, the hippie style involves handcrafted jewellery, such as long-beaded necklaces, large earrings, natural stones, peace charms, etc. Granny glasses and ankle bells are other accessories typical for this era. Glasses in the fifties were thick and black-rimmed. Headwraps and hairbands were typical for this period as well.
The Bottom Line
This unique fashion style allows individuals to express themselves by looking natural and feeling free!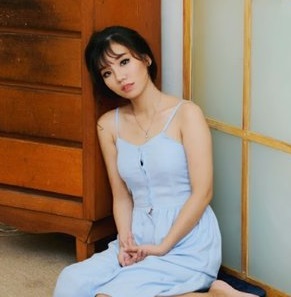 Hi Everyone, BeYoungAholic's aim is to help women who have lost their self-confidence because of the way they look. We will provide you tips and bits of advice on how to take care of yourself and maintain your youthful look. So, Enjoy the blog!