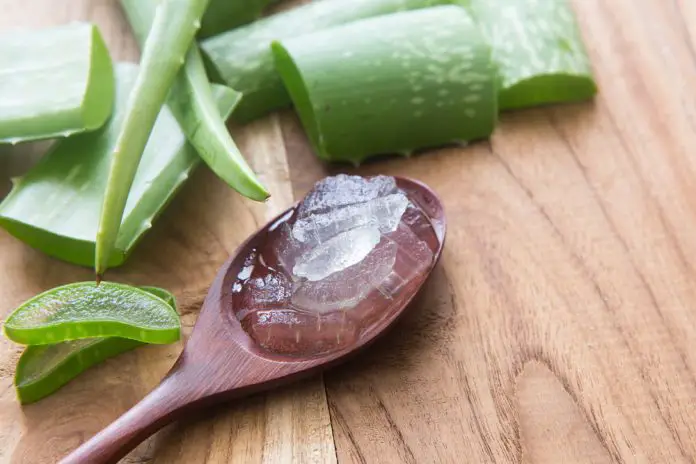 Having a hard time deciding which is the best Aloe Vera gel for acne? We are here to help you. Before we present to you the products you can consider, we will start by giving you some important information about Aloe Vera.
Reading the label of the product you are interested in buying is your first step in finding the right one. Make sure it is free from harmful chemical. Check if it has any preservatives, color enhancers or thickening agents.
The Origin of Aloe Vera Aloe Vera came from the same group where onions and garlic belongs. The gel extracted from the leaf is a popular component in many skin care products like creams, ointments, face masks and others.
The gel present in the thick Aloe Vera leaves contains 99% of water and has more than 200 vitamins and minerals. It also has fatty acids, amino acids, and enzymes that will help boost one's health, and also prevent and treat acne, abrasions, and wrinkles.
Why is Aloe Vera Good for the Skin?
It has the ability to increase the collagen level thus it promotes a younger skin.
It can make your skin more elastic, thus it reduces wrinkles
​It is an effective emollient because it can hydrate the tissues Its antimicrobial properties disinfects the skin
​It has the capability to dilate blood vessels, therefore, improves the blood flow
​It can help stop minor bleeding because it is an astringent
Used as pain reliever because of its analgesic properties
With its antipruritic agent, it can stop itchiness
How to Choose the Best Aloe Vera Gel?
Before choosing an Aloe Vera gel, you need to consider the following factors:
1. Purity Level
To prevent a natural product from going bad, it requires preservatives to be added. Check the label and choose the one that contains less preservative. These products are much safer.
2. Fragrance
Aloe Vera has a unique odor, and there is no reason why another fragrance should be added. A natural Aloe Vera product has a pure scent. As long as it is stored properly, the product will not produce any unpleasant smell.
3. Consistency
Aloe Vera has a liquid consistency because it contains mostly of water. It's because of this why some products contain a thickening agent. But, it also means more unwanted components will be added.
4. Color
The more color means more additives. The best Aloe Vera gel need not make it colorful. The more natural the color the healthier and natural it is.
What are Benefits of Using Aloe Vera?
It is Great for the Skin The Aloe extract has a huge benefit in the cosmetic industry because it can help treat acne, bug bites, scratches and burns. The cool temperature and its healing properties can treat the sunburn fast. Aloe Vera is an emollient and is perfect for moisturizing and soothing the skin. It helps in driving oxygen into your skin cells and makes you look younger.
Helps Remove Toxins
Aloe Vera, if taken orally can help eliminate the toxins in the body. It helps your digestive system to work properly. The plant extract can lower the risk of having stomach problems in the future.
Diminish Scars Due to Acne
It is known to many that the gel won't clog the pores thus recommended for people with sensitive skin. It also has an amazing anti-inflammatory and antibacterial properties that help prevent the formation of acne. The aloe gel is also rich in vitamin E that is very effective in reducing scars and blemishes, giving your skin a beautiful fair complexion.
Improve the Immune System
Aloe Vera is full of antioxidants that fight the free radicals in the body. It has an analgesic property which can help lower the body temperature if you have a fever. The sap can also help increase the white blood cells in your body which make up the center of your immune system. This helps you fight diseases and infections.
Serve as an Antiaging Agent
Vitamin E and Vitamin C are the primary anti-aging agents which are present in Aloe Vera. These two vitamins can make you look longer. Actually, many people have related seeing modifications within a few months.
Top 5 Best Aloe Vera Gel to Treat Your Acne
The product is 100% natural with no artificial color added, no alcohol or fragrance. Amara can hydrate and soothe dry, irritated or itchy skin. Recommended for acne, scalp itch, sunburn, dandruff, razor burn, scalp itch, and rashes.
The manufacturers claim that it is safe for your pets. Some people use it as after shave gel, or hair gel. The gel when applied topically it is absorbed easily without sticky residues, making your skin smooth and silky.
The makers of this product offer 100% money-back guarantee, no questions asked, and you don't have to return the item. Since this product is a natural product it is known to be very effective not just for acne but for other condition as well as for irritated skin, sunburns, rashes, itchy bug bites and dandruff.
Aloe Vera is known for its anti-fungal, anti-inflammatory, and antibacterial properties and has a wide variety of uses. The gel is also used in styling the hair for shinier, stronger hair. It is a moisturizer or combines with oils to create your own formula.
You may use the products for your pets to relieve itchy bald spots or patches. It is all natural as if you get it directly from the actual Aloe Vera leaf. It has a thinner consistency that absorbs the skin quickly. This also means that it can penetrate the deepest part of your skin where it can perform its healing process.
Amara Aloe Vera Gel contains 99.75% pure, a cold-pressed extract made from organic plants from the USA. Its remaining 0.25% are natural preservatives needed to keep the product safe and last longer. The company offers Hassle-Free Guarantee. If you are not happy with the product, you can get a full refund without the need to return the bottle.
Pros
100% natural Aloe Vera
Not just for acne but for other skin conditions like eczema and insect bites
It is safe for your pet dogs and cats
Cons
The bottle leaks, especially if you order it online
It has a slight fragrance
---
The product contains 99.75% Aloe Vera gel obtained through cold-pressed method. It has thin formula that you can spread evenly on the skin. Green Leaf Aloe Vera gel absorbs the skin fast without the sticky feeling. You can use the product as a daily moisturizer for face skin, hair, face or as a moisturizer after shave for men and women.
The product does not contain harmful chemicals like paraben, dyes, alcohol, and petrochemicals. It is cruelty-free and is safe for kids and pets. The Green Leaf Naturals Aloe Vera Gel does is free from additives. It means the product contains only Aloe Vera with a small amount of preservatives to eliminate the need of refrigerator when storing it. A small amount of thickener is also added to adjust its consistency.
Pros
It has no harmful chemicals like petrochemicals and parabens
Cruelty-free product – safe for animals and children
Has a slightly liquid, clear consistency
You can use it also as hair gel and aftershave cream
Cons
Some complaints that it can dry the skin.
---
It is one of the best Aloe Vera gel products in the market, and the company ensures its customers that they will be satisfied with the purchase. Earth's Daughter does not contain parabens or petrochemicals. It is fragrance and color free for any type of skin including irritated, dry or sunburned skin, scars, scratches, stretch marks and of course to treat acne. You can also use it a hair gel.
The product absorbs quickly on your skin and hair without leaving any sticky residue which is not found with other products. Earth's Daughter is recommended for the whole family including the little ones. It is made from 100% natural ingredients, including cold-pressed, organic Aloe Vera. The manufacturer gives you a 100% satisfaction guarantee.
The product is for external use only. You can use it in treating sunburn, razor burns, bug bites, scratches, bruises, abrasions, eczema and other skin conditions. It is also safe for your pets. Earth's Daughter Aloe Vera Gel contains citric acid as a preservative. It also has potassium sorbate as a preservative to protect it against bacteria. The product also has ascorbic acid as vit. C preservative and Xanthan to coat your skin better.
Pros
With 100% satisfaction guarantee
It can help a lot in treating your acne
Less preservatives
It has no paraben and other harmful chemicals
Cons
With watery consistency
It leaves a sticky feeling on your skin
---
This product made by Seven Minerals could be the world's best gel of its kind because it has seaweed minerals. It still contains 99.75% of Aloe Vera producing the perfect partner for acne and your skin. Seven Minerals produces 99% organic and 100% natural with less synthetic ingredients.
This gel made from the USA-grown Aloe Vera uses cold-pressed method to preserve all natural properties. Without uncomfortable stickiness and is made of 100% natural thickener seaweed extract instead of carbomer or xanthan. It is absorbed easily without sticky residue, making your skin silky and smooth.
It soothes sunburn, clears up your rashes, treats your cuts, takes the sting out of bug bites, removes cellulite, heals scalp itchiness and dandruff, for shaving burn and a lot more. The Aloe Vera gel by Seven Minerals can repair and soothe the skin making your skin healthy glow. The manufacturer offers Money Back Guarantee if you are not satisfied with the product.
Pros
No fragrance added and with liquid consistency
It does not contain any carrageenan substances
Makes your skin feel fresh without any residues
The gel is not just for your face, you can also use it as cleaners It absorbs easily into the skin
Cons
You need to shake it before using
Requires refrigerator in storing
---
The product is 100% pure and contains only natural aloe gel. To preserve the item it has an additional ingredient to maintain its condition. It is available in an amber-colored, cylinder shaped 12-oz container that is very effective to protect it against UV rays.
The lid is flappable which makes it easy to pour the gel without letting the air to enter. The primary preservative agents are potassium sorbate and ascorbic acid, which are non-toxic thus it is safe for your skin.
Xanthan is used as a thickening agent and has some vitamin B12 and folic acid, which help in regenerating skin cells. Art Naturals is best to moisturize the skin as it gets rid the bacteria on your skin.
Pros
It has vitamin B12 and folic acid helpful to speed up cell regeneration.
In a container that prevents oxidation or being affected by sun rays.
It contains antibacterial properties ideal for the formation of acne
Easy access to content due to its flip top cover.
Cons
Synthetic Xanthan is used as thickening agent
100% pure claim is quite confusing
---
Final Verdict
Obviously, Aloe Vera gel has loads of benefits not just for the skin but for the hair as well. We recommend Amara Organic Gel because it is gentle on the skin with less preservative, no fragrance and no artificial color. It is very versatile that you can use it not just in treating the acne but also to deal with other skin conditions.
Green Leaf natural gel is the second best based on our review. It does not contain any harmful chemicals and additives. You can use it not just on your skin but on your hair as well. It is safe for your children and pets.
If you find this best Aloe Vera Gel for acne review helpful to you, feel free to share it with others. In case you have other questions about Aloe Vera gel, you can leave a message below.